Welcome back to my latest instalment of my Blackburn Rovers save. When I left you in my previous part we had just finished pre-season, it had gone OK, my main issue was my tactics, as always I couldn't get it right. We had 1 signing, Right Back Motta and we were haemorrhaging money! This part will take you through the season as a whole, what has happened, tactics, transfers, results, etc, etc.
EFL Championship – August – November
As we started the season I felt like we could do at least something, I set myself a target of 60 points, looking at real life seasons that would get us around 10th-12th which seeing as we were prredicted 19th would be brilliant. Here are the results up to the end of November:
It started well with a brilliant win on the opening day but went downhill rather sharpish. I won't go through every game but to say we were poor was an understatement. I was watching every game and I could notice certain things:
Danny Graham was playing awfully as a lone striker, this had to change.
The wingers weren't doing anything, numerous times Marshall would get the ball and just stand there, lack of options to pass to or just not performing in the role?
We weren't making any chances and when we were the shots were always from long range, lack of options or poor decision making?
I had faith that Graham could turn it around for us but he needed a partner to play with him up front, after the 4-0 hammering by Sheffield Wednesday I took a day out off the game to seek some tactical advice from some of my closer FM friends. They tore my 41221 apart, which was brilliant. I needed to make a HUGE change, results were poor and I was currently the favourite to be the next manager sacked.
Something that grabbed me at the start was we could play 3 at the back but my issue was I've never been able to make it work. After chatting to a fellow friend called FM Acidphire he talked me through how I could set it up so I went for it: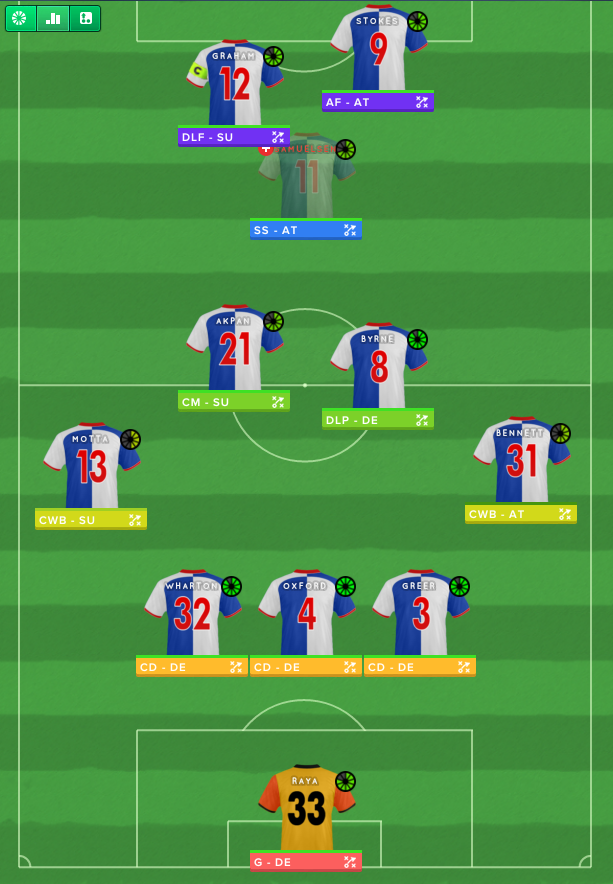 3 at the back, 2 wingbacks, 2 in midfield and a front 2 helped my a SS. I didn't add too many TIs just play out of defence, work ball into box, higher tempo and close down more.
How did we do? Let's see below!
EFL Championship – November – May
An absolutely incredible turnaround, straight off the bat we looked better, tighter in defence and it brought a new lease of life to Danny Graham. He ended the season with 29 goals from 42 league games, 24 of these after we went to a front 2. We started sprinting up the table and that run of 6 straight wins during March/April saw us push ourselves into the playoff spots. 2 wins in our penultimate games saw us need only a point from our final game to secure 6th place. We got thrashed but would we have done enough to sneak into the playoffs?
Yes but only just!!! We snook in by 1 goal…..YES 1 GOAL!!
The Playoffs
We played Huddersfield in the semi-final and we were at home first. It started amazingly and after an hour we were 2-0 up, 76′ we were 3-0 up, now to tighten up, err nope we decided to absolutely capitulate letting in 3 goals in the final 12 minutes to draw the game 3-3, what a disaster!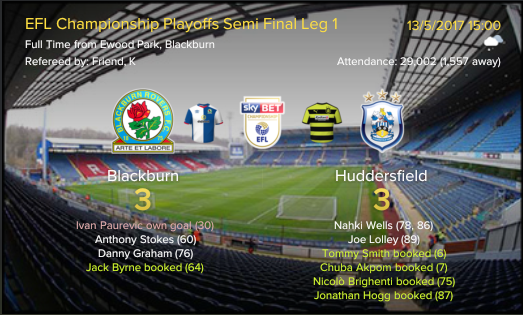 The 2nd leg started just how the 1st leg ended, we scored early from a penalty and by 11 minutes we were 2-1 up, Huddersfield then took control, our defence couldn't handle their quick play, balls over the top and crosses and at half time we found ourselves 3-2 down. The 2nd half was awful, we hardly created a chance and it wasn't meant to be. We had lost 6-5 on aggregate, absolutely gutting but to even get to the playoffs was a major success.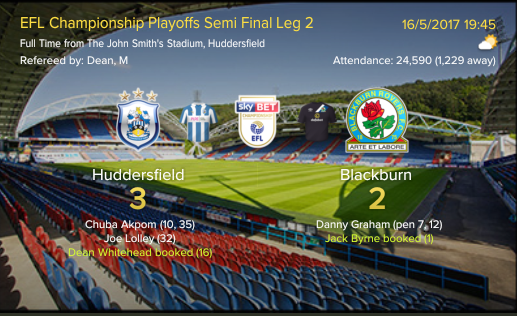 But what an achievement to get to the playoffs after being predicted 19th. We held our own but I let the team down maybe playing a bit too high and not offering enough cover out wide, Huddersfield exploited it and the team couldn't cope.
The EFL and FA Cup
Now to the cups and to be honest there isn't much to say. In the EFL Cup we beat Northampton 1-0 in the 1st Round but lost 1-0 to Wolves in the 2nd Round.
In the FA Cup we played Stoke away and played well but ended up losing the game 2-1.
Transfers
A little bit on transfers, due to our shocking financial position I needed to start cashing in on some players, some I wanted to go and some not so much.
First up was Ben Marshall, he wasn't playing well but is still one of my best players. Bids came in and he asked to leave, I tried to ward them off but then Swansea offered me a combined fee of £7.75m and I couldn't say no. A really good deal for the club. Secondly was Charlie Mulgrew, another player asking to leave, he had been performing well but a £4m bid from Norwich was too much to turn down. The third player to leave was Craig Conway, he didn't fit my new tactic and wasn't good enough, he left for £550k.
The only player I brought in during the January window was Reece Oxford on loan for the rest of the season.
Youth Intake
As I expected our Youth Intake was very good, we had numerous decent looking players, not amazing but with some training and tutoring they can definitely push for a 1st team spot.
Numerous decently rated players, here are the ones that I feel can become good players for the club.
Player Performances
There's only one place to start here and that's Danny Graham, I mentioned that he didn't look good upfront on his own but once I changed to 2 upfront he excelled. His goals alone took us to the playoffs and he even scored 3 in the games against Huddersfield. His 29 League goals made him the EFL Championship top goalscorer for the season.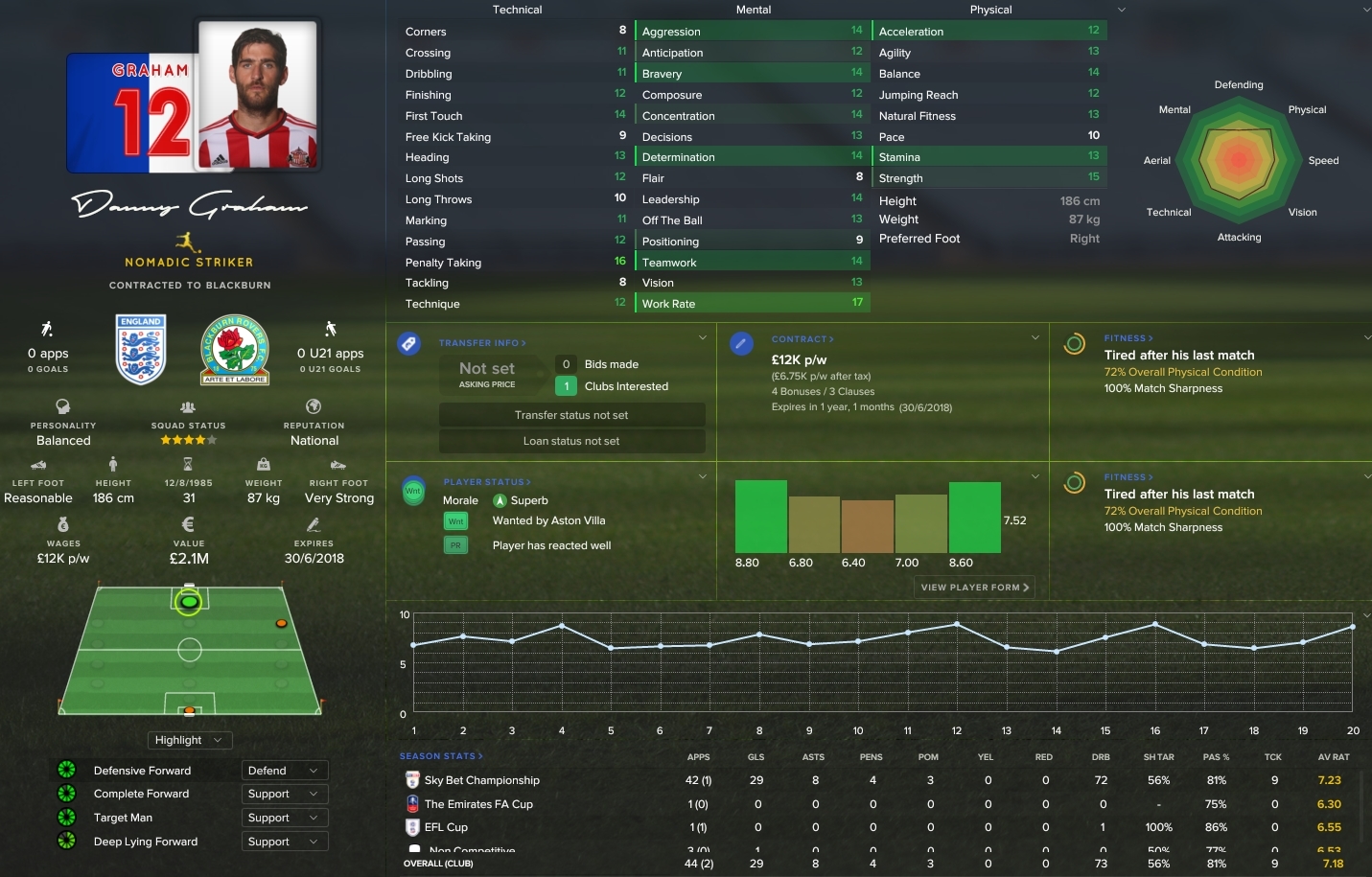 The other player that went up a level when I switched formation was Anthony Stokes, alongside Graham, playing a little deeper he was sensational scoring 14 and assisting in 10. If I can keep both Graham and Stokes next season we have a good chance at pushing the playoffs next season.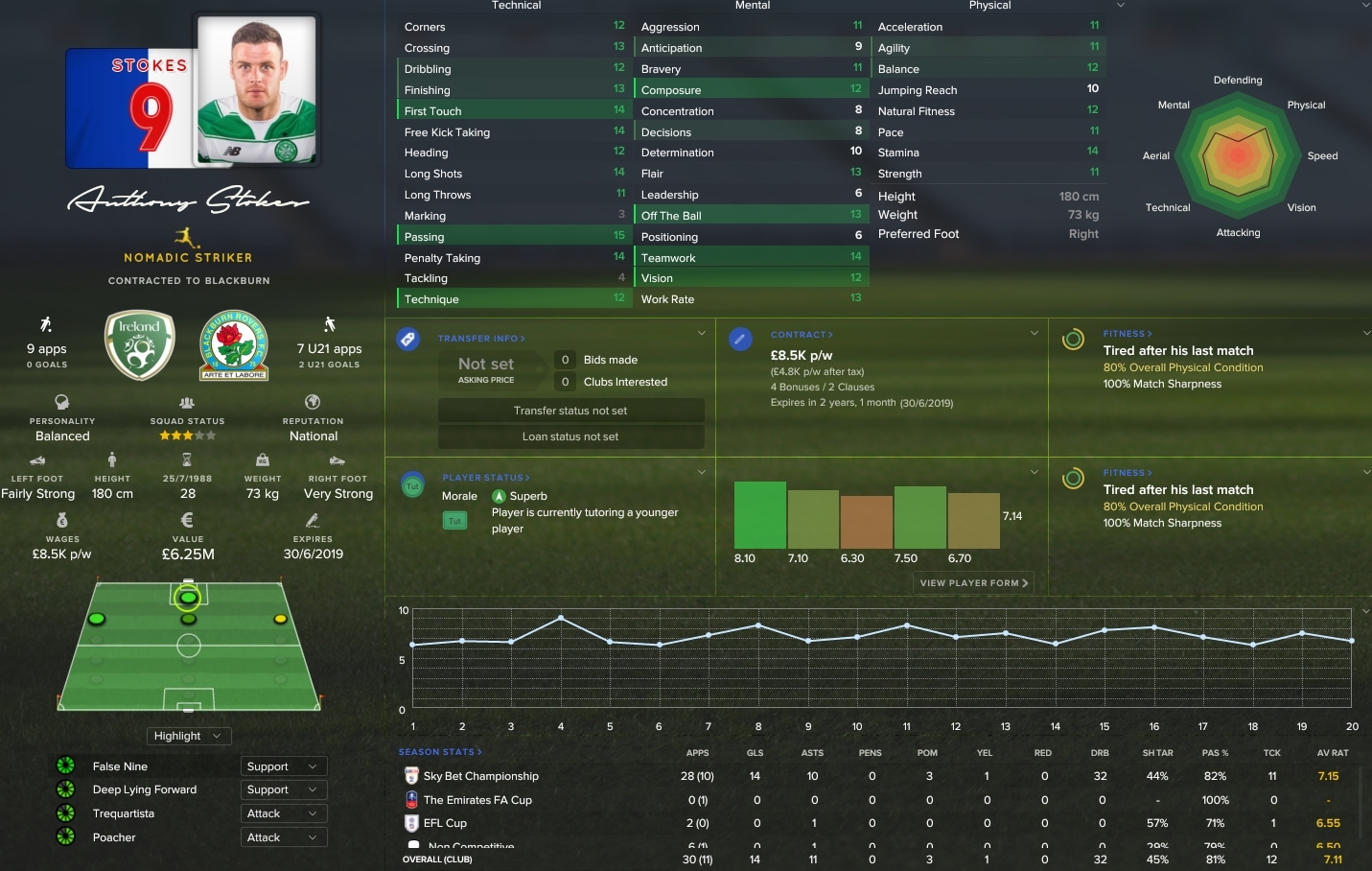 Awards
In the club awards as expected Danny Graham ended as player of the season with 52% of the vote. Anthony Stokes came 2nd with my only permanent signing Motta in 3rd.
In the EFL Championship awards Danny Graham claimed the Player of the Year and the Golden Boot.
We also had 3 players in the Team of the Year, unsurprisingly that was Graham, Stokes and Motta
Finances
As mentioned earlier the finances are in a real mess. We have £80m of debts (£60m is a loan which isn't being repaid until the Venkys leave). We are currently paying £400k a month off of what we owe. I managed to make some money from player sales and also cut the wage bill. This is something I will need to do more of as we move into next season. The good thing in my eyes is the fact we are only £2m in the red. This was projected to be over £15m.
We still have a long way to go, we need to keep the transfer income high and bring in players for no money and on low wages. That is one of my major tasks for the upcoming season. One good thing is we have a new senior affiliate which is Chelsea so I will use this to my benefit bringing in some players on loan for no cost.
Next Season
A close shave with the playoffs this season and that has to be my aim in the next campaign. It's going to be tough, we already had clubs snooping around Danny Graham who I need to keep hold of. I will look to move on some of the high earners and promote some of the youth and make the most of the Chelsea affiliation to try and strengthen the squad. This has been made even more important with our budgets for next season. £110k transfer budget and £175k per week wage budget, we are currently spending just under this so there isn't much available to spend!
Anyway that's enough from me for now. I hope you enjoyed the read, if you want to follow this save more closely then I am currently doing updates on Slack, if you want an invite then please let me know, if you are already on it then join my channel #that-fm-regen.
Thanks for reading and see you all very soon