Part 3 already hey? And at the end of this post I STILL won't have started the season! Well pre-season is now over and it's been pretty mixed, as expected the tactics I tried to implement haven't gone well and there been a few changes. Hopefully as the domestic season begins the players will get to grips with my ideas more and we can have a decent start.
This post will take you through pre-season, the results, the transfers in and out, a bit about my staff and also a bit about my shambolic tactical setup.
Transfers
I didn't expect a lot of activity but with quite a few injuries I needed to assess any areas that we were short, after a lot of deliberation I decided the only area I needed filling was at Right Back. Henley is out for 3 months but even so I just feel he isn't good enough at the moment. We have Nyambe but he is young and needs time to improve first and foremost. So I went out and grabbed this lovely player on a free transfer.
Experience in abundance and some cracking stats for an attacking full back. When signing a player in any of my saves I always look for 4 attributes.
Decision
Determination
Teamwork
Work Rate
It's the foundation I build all my teams on, a player has to work hard but also do it at the right times in the game.
Motta fits that bill fantastically and hopefully will be pivotal this season.
With regards to out's, there were none on actual transfers, there was some interest in Ben Marshall but I managed to stave them off. I have sent a few youth players out on loan so will monitor their progression through the season. I don't tend to pay much attention to the kind of loan deal in my saves but I have taken a different approach here, mainly making sure the player is selected in his prime position for my tactic and also a "Key Player" or at least "First Teamer".
Staff
I was going to discuss my staff in the previous post but decided due to the length of it to leave it until this one, another reason was these pesky "bigger" clubs kept trying to nick some of them so didn't want to spend ages waffling about someone who had then left.
Here is how it stands at this current moment in time, all the staff that left were part of my U23 or U18 squads. As you can see every slot is full (I haven't signed anyone) and we are ranked as the best in the Championship in Attacking, Fitness and Tactical Coaching, also on the medical side we are ranked No.1 for physiotherapy. This is a great start and a brilliant base to build on, so who are my key members of staff currently?
Assistant Manager – Sandy Stewart
Not bad for start but I may replace him as and when his contract runs out. When looking for my "ass man" I always like them to have high JPA and JPP alongside Determination and Tactical Knowledge. These are mainly so I get a good 2nd opinion on my players and also my tactics.
Stewart has over 13 in 3 of these but I really feel I can get better. I don't really like replacing staff at the start so as I said before I will stick with him….for now.
Head of Youth Development – Eric Kinder
With great youth facilities I need to make sure I have a good HOYD to help develop these players, Kinder is OK, nothing amazing but he has 18 for Working with Youngsters and 13 for JPP. Like my ass man I will keep him for now.
Chief Scout – Tommy Johnson
It's imperative for me to build a really good scouting network to make sure we find all those gems before the other clubs nick them and it always starts with the Chief Scout, Johnson has some great attributes, yes it could be better but it's a good base.
With regards to my other scouts, we have some good and some really bad. Our best scout is Stuart Harvey who has 15 for JPA and 17 for JPP, our worst is David Cross who has 9 and 8 respectively. So there is some work to do with regards to scouting but I will replace as they leave.
Here are a few my other staff members, I won't waffle on about them, if you want to see them then take a look at their profiles below.
One thing I do like is the fact we have a couple of ex-Blackburn players in our staff. As you can see above David Dunn is our U23 Assistant Manager and we also have Damian Johnson who is our U23 Manager. This is something I will look to do more. I have already shortlisted a few people who are classed as Icons or Legends at the club and may bring them in as we go forward.
Pre-Season Results

Wow, the start wasn't so good but it ended very well, I will talk more about the results in the tactics section below.
Tactics
What I'll do first is show you my first draft of my tactic and then the final draft so you can see how much it has changed!
Draft 1
A 41221 or 451 to be even more basic, my initial idea was to be solid at the back, make the most of the nice midfield diamond, get the ball out wide and work the ball into the box slowly to pick out the right chances, did it work? Well you can see from the above friendlies it started poorly but ended rather well! With the high work rate in the squad I tried to implement a high-tempo tactic with more closing down, and play out of the defence ticked due to decent passing attributes of my centre backs and the fact it may slow the play down a bit more.
What I found in my first few friendlies was when we had the ball in defence the full backs would be sitting really deep and as you can see from the screenshot below I mean REALLY DEEP!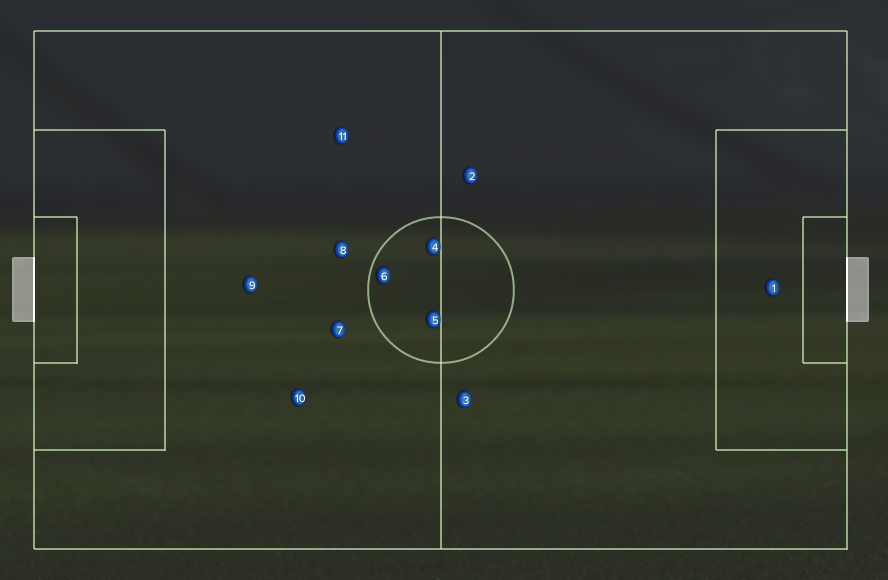 What I felt it showed was we were playing too higher line (you can see how high the CBs were) and also that the full backs needed to be a little more attacking, so I lowered the D-Line and changed the FBs to WBs. The screenshot above was from our 3-0 win against OJC Rosmalen.
Going forward we looked OK, the midfield 3 (I did change the BWM to a AP before the first friendly) and the 2 wide players looked pretty decent (the 1-0 defeat may say differently but I mixed the team around with some youth players), the one thing that I always struggle to work out is the lone striker, as you can in the tactic above I tried a CF(s), I always feel he offers the most out of any role but he needs really good attributes to play the role well.
In the 1-0 defeat to RKC, Graham and Gallagher played 45 minutes each and over the whole game they managed 1 shot and 16 passes. This just isn't how I wanted to striker to play, I want him to drop in the hole and link play up.
In the 4-0 win against Nelson (yes it was a smaller team) I switched the Striker to a DLF(s) and it seemed to work, he had 3 shots, 2 goals and made 49 passes, 42 completed. This was backed up in the Motherwell game where Emnes (Graham and Gallagher are both injured) scored 4 goals from 4 shots, had 38 passes completed and only played 45 minutes! The came the Celtic game, my god we were good, so after a worrying first few games if we continue the final few games heading into the season we could do well!
Final Draft
So here is how it looked in the final few games. I'll let you see what has changed without me waffling too much.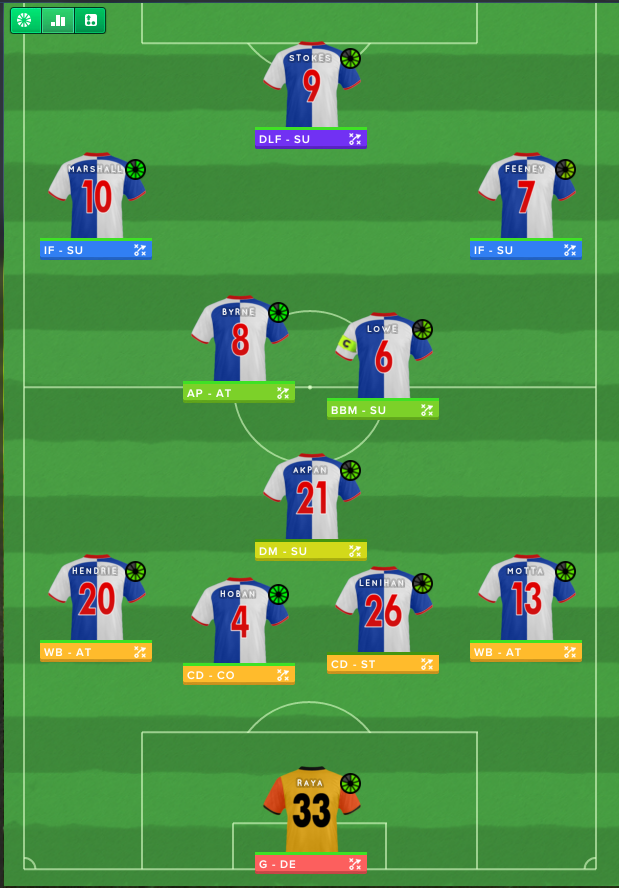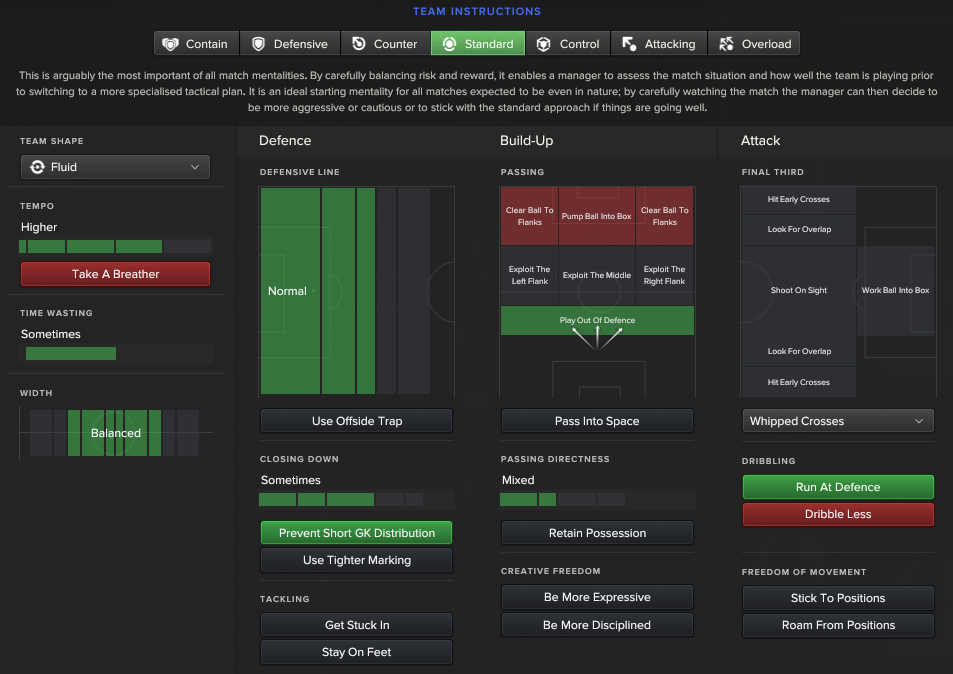 The main changes are mentioned above but in short the FBs are now WBs(a) to give us more potency going forward, the DM(d) is now a DM(s) just so he doesn't drop too deep. The W(s) is now another IF(s) just to offer more support to the Striker and give space for the attacking WBs and finally, the Striker is now a DLF(s).
With regard to team instructions, not much has changed. The D-Line is now normal and I have unticked Work Ball into Box, I have also selected Run at Defence and slighlty lowered the Closing Down to hopefully stop my CBs pushing too high up.
Will it work in the long run? Who knows, I'm never confident in my ability tactically but those final couple of friendlies has given me confidence.
The Season Ahead
I mentioned in my previous post the aim this year was to build, try and exceed expectations and try and give the playoffs a good push, it's going to be hard but why not try and do something special straight the way!
Here are the odds and expectations for the season:
Predicted 19th and expected to end mid-table, I would say mid-table is about right, I will be disappointed if we don't at least end there. I also hope that with a few easier draws we can meet expectations in the cups.
Well that's all from me for this post. I won't do another post now until the end of the season (unless something interesting happens in the meantime). If there is anything you would specifically want me to talk about in my posts then I'm always willing to try new things and take feedback on board. Either comment on here or message me on Twitter @thatfmregen, also you can follow my journey more closely on Slack #that-fm-regen